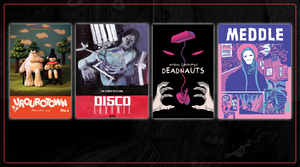 January New Releases Preview: Meddle, Urourotown, Deadnauts & Disco Lavante
I am really excited about the first batch of books to launch 2022. Some of them have been in the works for a long time with a bunch of editing and changes in between. I won't ramble too long but please take a look below at some awesome previews of the first books in the 2022 Strangers Publishing line.
Meddle by Marc Wagner
Their glory days behind them. A former art thief has resorted to burgling neighborhood homes. Ignoring all warnings they become trapped inside a haunted house.
Urourotown by Manning Coe
Urourotown is a collection of Manning's short cartoons that as he describes it was an attempt at sharing his comics with his friends in Osaka. The story was originally serialized in Japanese and will be self released in Japan by Manning!

Deadnaut by Andrew Zakolodny
A new terrorist group called the Deadnauts is using experimental technology to create consciousness projections which allows them to 'die' and travel to The Otherside. A special taskforce has been designed to stop them. Forcing themselves to clinically die and catch the Deadnauts in The Otherside, the anti-terrorist taskforce ends up with a lot more than they can handle!

Disco Lavante by Garresh
A sci-fi/horror one-shot, Disco Lavante is cult sacrifice, a destroyed homeland and A LOT of people burning alive. 
---
2 comments